Our wellness tinctures are crafted with a simple blend of MCT oil, Full Spectrum CBD oil extracted from US grown hemp using the clean CO² process, and natural flavoring. Each product formula is tested for purity and is free from added sugars.
Meet your new bedside companion. Our Nighttime Wellness Tincture blends Full Spectrum CBD and CBN to help you unwind before you go to sleep. CBN or Cannabinol, like CBD, is one of nearly 100 cannabinoids naturally produced by the cannabis plant. While CBD is the more well-known cannabinoid, CBN is also of interest and the subject of more research in recent years. This initial research suggests that CBN might have a role in working with CBD and other cannabinoids in promoting sleep and other possible benefits.
Medium chain triglyceride (MCT) Oil, natural cannabis sativa (hemp) CBD extract, cannabinol (CBN) oil, natural peppermint extract oil
Each full dropper contains 1ml or 29.2mg CBD / 4.2 mg CBN. See dosing guide below.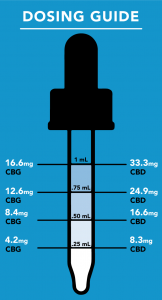 For best results start with 3-6 drops placed under your tongue, hold for at least 10 and ideally for 30 seconds and swallow. Add a few extra drops each day until you are at a full dropper dose. Take 30 minutes before bedtime. May be added to your drinks (decaffeinated please) as well.
FOR MEDICAL USE ONLY. IF PREGNANT, USE UNDER MEDICAL SUPERVISION. KEEP OUT OF REACH OF CHILDREN AND PETS.
This product contains less than 0.3% delta-9-tetrahydrocannabinol (THC).