BACK
Holiday Season Got You Stressed? It may be time to add CBD to your daily routine.
Posted on: December 15, 2020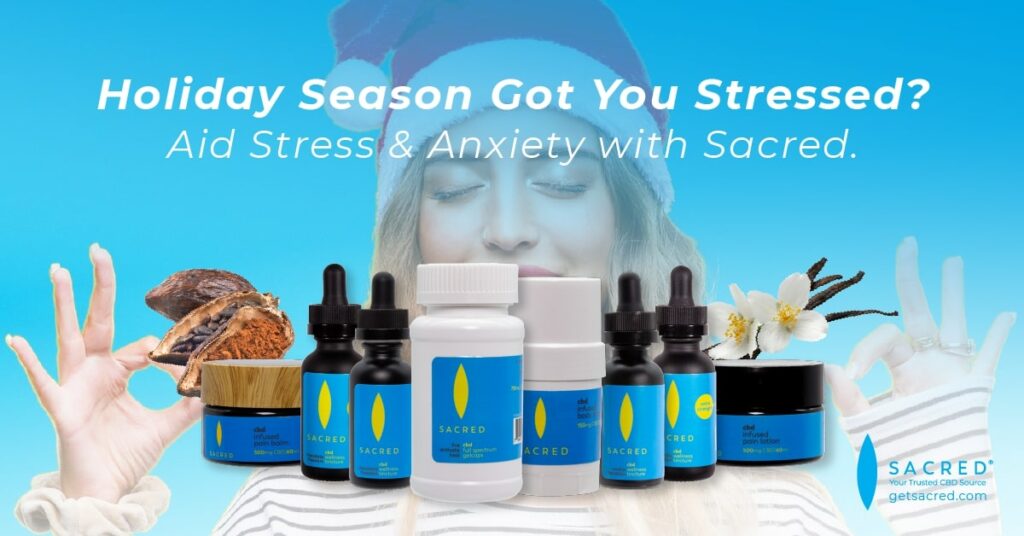 Managing anxiety throughout the holiday season has never been an easy task, but this year the pandemic has caused normal anxiety and stress levels to increase. With social distancing mandates in place, some people are forced to spend the holiday season alone this year. Nearly ​80 percent ​of Americans said their stress levels increased dramatically this year compared to last year and according to Gallup, over a quarter of Americans say they've experienced much sadness the previous day.
Many Americans manage stress by going to the gym, spending time with people, or speaking with a therapist. Since COVID, social distancing and other restrictions have made it difficult for people to maintain the same physical and mental health routine. Many have discovered CBD products as an alternative to help relieve stress and anxiety, especially as the holidays
approach. CBD is a cannabinoid, meaning it comes from the cannabis plant, but unlike THC does not result in a high. Instead, studies suggest CBD can improve focus, act as a sleep aid, and decrease stress and anxiety levels.
Sacred CBD has put together a few benefits of adding CBD to your daily routine and the best CBD products to try this holiday season.
Stress and Anxiety
Between pandemic worries, social distancing, and seasonal depression, it's no wonder why we're experiencing a mental health crisis. CBD works by supporting a function called homeostasis, which means balance within the body. Although homeostasis affects different parts of the body, an imbalance in the nervous system can increase anxiety levels. CBD combined with the natural homeostasis present in the bodywork together to manage these levels.
Try starting the day with an ​extra strength tincture​ to help restore balance. For best results, start with 6-8 drops placed under your tongue , hold up to 30 seconds and swallow. Add a few extra drops each day until you are at a full dropper dose. Repeat as needed.
Sleep Aid
A study conducted by SleepCycle shows that since the height of the pandemic, ​37 percent ​of people globally have had trouble falling asleep. In most situations, sleep cycle issues result from stress-related disorders, similar to depression or anxiety. Instead of giving an instant sedative effect, CBD alleviates insomnia or sleep deprivation symptoms, making it easier to fall asleep and stay asleep.
Try implementing a Sacred CBD Am/Pm bundle into your daily routine to promote a healthier lifestyle and a renewed sense of well being. For best results, use the complete bundle to help with restorative sleep.
Improve Focus
Media has taken over nearly every American's attention span this year, and staying focused and productive has become quite challenging. CBD has a natural ability to improve focus by encouraging the flow of serotonin to the brain. Serotonin is a neurotransmitter, an essential hormone to stabilize our mood, feelings, and well being.
Try adding a drop of a ​wellness CBD tincture​ under your tongue before you begin working to stay focused throughout the day. Crafted with a simple blend of MCT oil, Sacred tinctures have been known to help bring more focus and clarity to achieving goals. For best results, start with 6-8 drops placed under your tongue.
For more information on ways to add CBD products to your daily routine, visit GetSacred.com today!
BACK